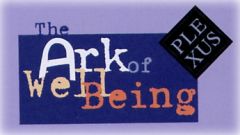 Pavillion ARK OF WELL BEING
a project in collaboration with Plexus International Forum Onlus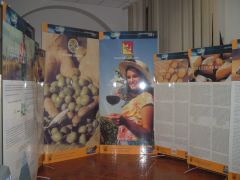 Concept by Dr. Sandro Dernini
Pyramid installation project by Arch. Loreto Papadia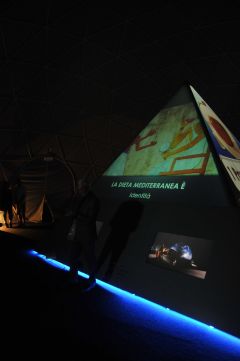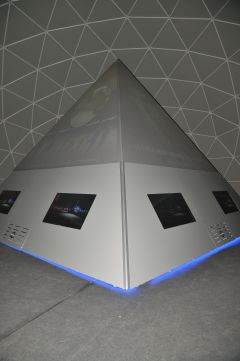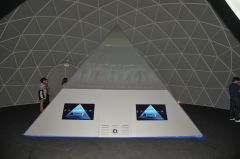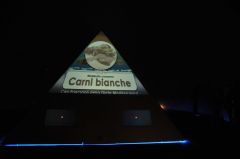 Photos: Domenico Masotti
Il Padiglione Espositivo ARK OF WELL BEING porta a bordo del suo viaggio storie, persone, prodotti, iniziative e progetti atti a valorizzare i sistemi e le culture alimentari del Mediterraneo, con particolare attenzione alla rivitalizzazione della dieta mediterranea come modello di dieta sostenibile.
L'ARK OF WELL BEING è un progetto creativo, realizzato in collaborazione con la Plexus International Forum Onlus, che si prefigge di contruire a ridurre le molteplici forme di erosione del patrimonio culturale, alimentare e naturale dei paesi del Mediterraneo.
Articolazione del padiglione espositivo
Installazione interattiva MED DIET 4.0 con informazioni inerenti i 4 benefici sostenibili della dieta mediterranea: salutari e nutrizionali, ambientali, economici e socio-culturali;
Pannelli presentazione delle caratteristiche nutrizionali, ambientali, socioculturali ed economiche di singoli alimenti che caratterizzano la dieta mediterranea come esempio di dieta sostenibile, in quel specifico contesto nel quale viene allestito il padiglione; presentazione di prodotti tradizionali alimentari di qualità del territorio;
Presentazione di materiali di marketing territoriale della realtà nella quale viene allestito il padiglione e di altre realtà partecipanti.