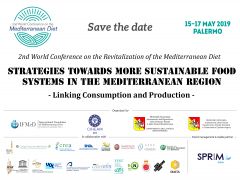 INTRODUCTION
The Second World Conference on the Revitalization of the Mediterranean Diet is a follow up to the First World Conference on the Mediterranean diet "From a Healthy Dietary Pattern to a Healthy Mediterranean Sustainable Lifestyle", organized in 2016, in Milan, by IFMeD (International Foundation of Mediterranean Diet), with CIHEAM Bari and FENS (Federation of European Nutrition Societies), with the technical collaboration of FAO, and the collaboration of the Forum on Mediterranean food Cultures, Ciiscam/SapienzaUniversity of Rome, ICAF (International Commission on Food Anthropology), and Sprim-Italia as event manager. On this occasion, the Call for Action on the Revitalization of the Mediterranean Diet was launched, signed by 37 scientific societies, research institutes and national and international organisations, following two previous Calls:
"2015 Med Diet EXPO Call: Time to Act ", joined by 81 institutions, on the occasion of the International Conference at the EXPO in Milan on "Does the Mediterranean Diet Still Exist? Nutrition-Health-Quality-Sustainability-Innovation-Evolution", organized by CNR, CREA, Ciheam Bari, ENEA and Forum on Mediterranean food cultures, in collaboration with IFMeD, produced by Sprim-Italy as Media Partner & Technical Advisor;

"2005 Call for a Common Action on Food in the Mediterranean", on the occasion of the third Euro-Med Forum "Dialogues between Cultures and Civilizations of the Mediterranean on Food Security", organized in Rome, under the high patronage of the President of the Republic, by the Institute of Food Science and Nutrition of the Sapienza University of Rome and the Forum on Mediterranean Food Cultures, with the collaboration of CIHEAM Bari, ICAF, and the Foundation Universitas Italica, with the economic support of the Regions of Sicily and Calabria.