23/06/2016 - Call for Action for developing an "Israel Sustainable Diet" based on the Mediterranean diet, at the Sustainable Food Systems Conference, 21 June, Tel Aviv University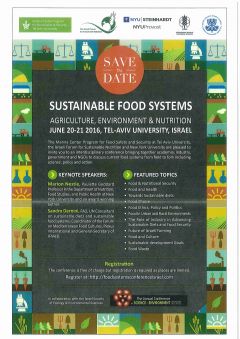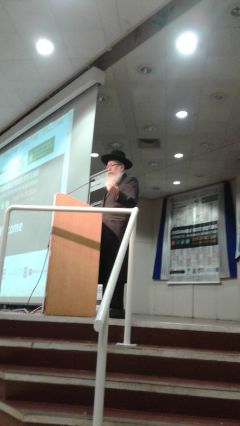 Statement for the Call for Action, formulated at the Conference
The following are action plans raised during the Conference, convened on the 20-21 of June 2016, on Sustainable Food Systems: Agriculture, Environment and Nutrition, organized by the Manna center for Food Security, Tel Aviv University, the Israeli Forum for Sustainable Nutrition, New York University and the Israel section of the International Union of Nutrition Sciences (IUNS).
1 We call on the government to adopt a multi-disciplinary approach to food and formulate a National Master Plan towards the implementation of sustainable food systems in Israel.
2 We propose the establishment of a statutory Multidisciplinary Sustainable Food Systems Task Force as part of a National Council on Food, Nutrition and Agriculture to include all relevant stakeholders from Government (Health, Nutrition, Agriculture, Environment, Education, Finance, and Justice), Local Authorities (Urban Planning), Agriculture (farmers), Environment, Health Professions, Industry, Catering sector, Academia, Media, NGOs, Civil Society and the Consumer public.
3 The mandate of the Task Force is to plan and recommend to the government a program for Sustainable Food Systems in Israel and to monitor its progress.
Such a National Master Plan should:
Implement the sustainability of food systems of high nutritional value – reliant on local produce, resilient, environment- and culture-sensitive, health-oriented, economically fair and socially just.
Ensure the right of every citizen to a wholesome and affordable food basket for a sustainable, heathy lifestyle that is environmentally and culturally acceptable, by developing an

"Israeli Sustainable Diet"

based on the Mediterranean dietary pattern.
The characterization and implementation of such a national plan requires further cross-cutting, interdisciplinary research as well as overarching legislation, institutional infrastructure, school and public education and capacity building.
Major action points that should be included in the above National Master Plan are to:
Make our food system Sustainable* along the entire food chain – from Production to Consumption, protecting resources such as soil, air and water in the light of climate change challenges – and reduce food losses and waste.
Strengthen the current agricultural basis in Israel, recognize its vital importance in providing local food and strive to align it towards the best practices in sustainable agriculture.
Protect the fundamental human right of all residents to sustainable, healthful, nutritious and adequate food. A well-fed nation is a healthy nation is a sustainable, productive nation. This means ensuring Food Security and Nutrition for all (no-one goes to bed hungry) at present and in the future. The Council on National Food Security needs to address these issues regularly.
Make our food of high nutritional value with a nationwide program for enriching and monitoring nutrient values of the food supply through a National Data Base Monitor, making sure it is safe, free of pathogens and environmentally friendly.
Direct the Food industry, through legislation, to produce healthy, nutritious (minimally processed) foods in a sustainable manner with less sugars, salt and additives that may adversely affect health. Production and marketing must be honest and transparent. Institute legible, intelligible food labelling. Restrict the marketing of junk food and sweet beverages especially to children.
Train nutritionist staff to educate the children in our schools (from kindergarten onwards) how to lead a healthy, sustainable lifestyle that includes good nutrition (Mediterranean diet pattern, cooking skills, eating behaviour, sustainability, growing vegetables, fruits and herbs) and regular physical activity.
Promote access of healthy, sustainable foods in restaurants, work-place cafeterias, vending machines, medical facilities (including hospitals), sports arenas, public spaces, schools and day-care centers. Remove junk food chains from hospitals, health clinics and educational places like schools and academia.
Remember that eating is not a list of do's and don'ts but should be a pleasurable and tasty experience. Meal times are important opportunities for socializing and building relationships. Traditional and cultural preferences in food choices should be respected.
*"Sustainable Diets are those diets with low environmental impacts, which contribute to food and nutrition security and to healthy life for present and future generations. Sustainable diets are protective and respectful of biodiversity and ecosystems, culturally acceptable, accessible, economically fair and affordable; nutritionally adequate, safe and healthy; while optimizing natural and human resources"